Breaking Through Content Creation Roadblocks with Gary Vee: The Raw Truth You Need to Hear
Are you stuck when it comes to content creation because you feel like you don't have everything you need to get started? According to entrepreneur and digital marketing mogul Gary Vaynerchuk, the problem is not the camera, but the macro - your fear of judgement. In his recent video, "The Truth Behind Content Creation: What's Holding You Back?", the 5x New York Times bestselling author addresses the issue of fear and how it holds people back from achieving success in the world of content creation.
Related: 10 Opportunities You Can Use To Choose Boldness Over Fear as a Creative
Going to the UAE with Gary Vee
Gary takes us on a journey to the UAE, where he starts his day with an interview with Al Arabiya TV, then travels from Dubai to Abu Dhabi to do a keynote at Aldar Experts event, and finally returns to Dubai to end his day with a podcast interview on the Savvy Talk podcast and a visit to the Museum of the Future.
The Conundrum of Content Creation
Gary starts out guns blazing by stating, "The camera on your phone is better than the camera Hollywood was using 20 years ago. The problem is not the camera, it's your fear of what others might think." He acknowledges that it's a conundrum that while content creation is easier than ever, most people won't take advantage of it.
Related: It's Time to Overcome Self-Doubt and Unleash Your Creativity
Overrated vs. Underrated
He also has some fun with overrated vs. underrated concepts, sharing his thoughts on mocktails, Formula One, Netflix, kelp noodles, St. Patrick's Day, Seltzer spiked, Indianapolis, vlogging, March Madness, and burnt island. While it may seem like a lighthearted tangent, this is an important reminder that content creators shouldn't be afraid to lean into trends on social media.
Detaching from Validation and Trolling
The VaynerMedia CEO also acknowledges that it's easy to get sucked into the addiction of likes and validation, as well as the treachery of being torn down by trolls. He shares that he has no attachment to the validation or tearing down and is motivated because he is detached. He believes that being in a state of doing things for yourself, not for the addiction of validation or fear of being torn down, is the key to success.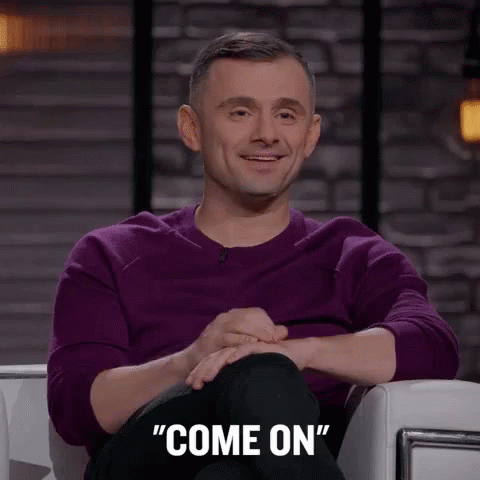 Related: Maximizing Your Audience: How to Use a Funnel to Make a Full-Time Income as a Creative Entrepreneur
Embracing Accountability
During one of his interviews, Gary talks about the importance of accountability and how it can help you stay motivated. He acknowledges that it can be tough to be held accountable, but it's everything. He'd rather be lonely with himself and accountability than to have people around him who are pushing non-accountability. He encourages people to surround themselves with positive energy that promotes accountability, rather than blame, envy, and jealousy.
Execution is Key
One of the most impressional moments from this video was when Gary focused in on the idea of execution. I know have personally been guilty of being "obsessed with tomorrow and romantic about yesterday." He went on to say, "Most people do not execute in today." Execution is key to success in content creation and in life. So what better way to close out this conversation than to ask you. What are you going to execute on today?